Location
We are located at the heart of Bowness-on-Windermere.
Our Address
Langdale View Holiday Apartments,
112 Craig Walk,
Bowness-on-Windermere,
Cumbria,
LA23 3AX
Directions to Langdale view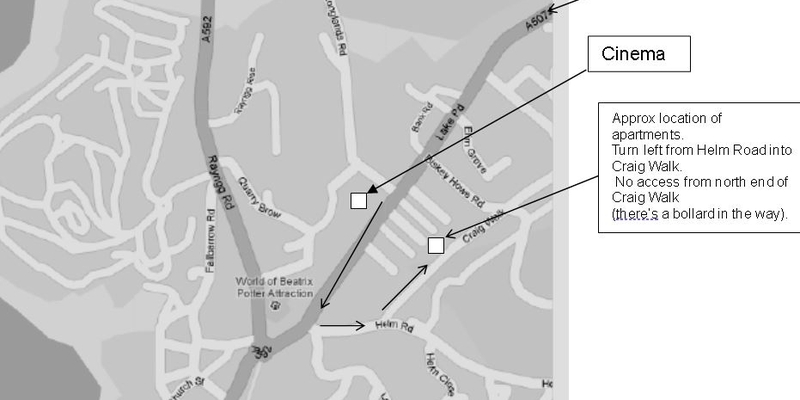 Post code is LA23 3AX but many SatNavs will not take you to the apartments so please have a quick look at the notes here.
M6 MOTORWAY JUNCTION NUMBER 36. TAKE THE A591 TO WINDERMERE APPROXIMATELY 16 MILES
TURN LEFT AT THE FIRST MAIN TURNING TO WINDERMERE, FOLLOW THE ROAD THROUGH WINDERMERE VILLAGE ALONG LAKE ROAD.
IT IS ABOUT A MILE AND A HALF TO BOWNESS. DO NOT TURN OFF THIS ROAD. AS YOU APPROACH BOWNESS AND ITS SHOPS YOU WILL PASS THE ROYALTY CINEMA ON YOUR RIGHT.
A FURTHER 75 METRES ON YOUR RIGHT IS THE CO-OP SUPERMARKET. NOW LOOK TO YOUR LEFT, YOU WILL SEE LAKELAND FASHIONS – TURN LEFT UP HELM ROAD, PASSING THE ANGEL INN ON YOUR RIGHT AND THE OAKBANK HOTEL ON YOUR LEFT. ABOUT 100 METRES UP THE ROAD THERE IS A LEFT TURN INTO CRAIG WALK.
TAKE CARE THE ROAD IS VERY NARROW. YOU WILL SEE A STREET LAMP ABOUT 75 METRES DOWN. PASS BY 'LANGDALE VIEW GUEST HOUSE', GOING STRAIGHT AHEAD TO THE APARTMENTS.
TURN LEFT AFTER THE BUILDING DOWN THE DRIVE AND INTO THE PRIVATE CAR PARK. PLEASE PARK CAREFULLY LEAVING ROOM FOR OTHERS TO TURN. THERE IS PLENTY OF SPACE FOR ONE CAR FOR EACH APARTMENT.
BECAUSE THE LANE IS NARROW, TURNING THE CORNER FROM THE CAR PARK OUT INTO THE LANE CAN BE TRICKY. IF YOU ARE COMING IN A LARGE 4WD VEHICLE OR A VAN PLEASE RING ME TO DISCUSS. I HAVE A PERMIT FOR NEARBY STREET PARKING AND THERE IS ALSO A CAR PARK NEAR THE CINEMA ON THE MAIN STREET.